'We're going to have an amazing year'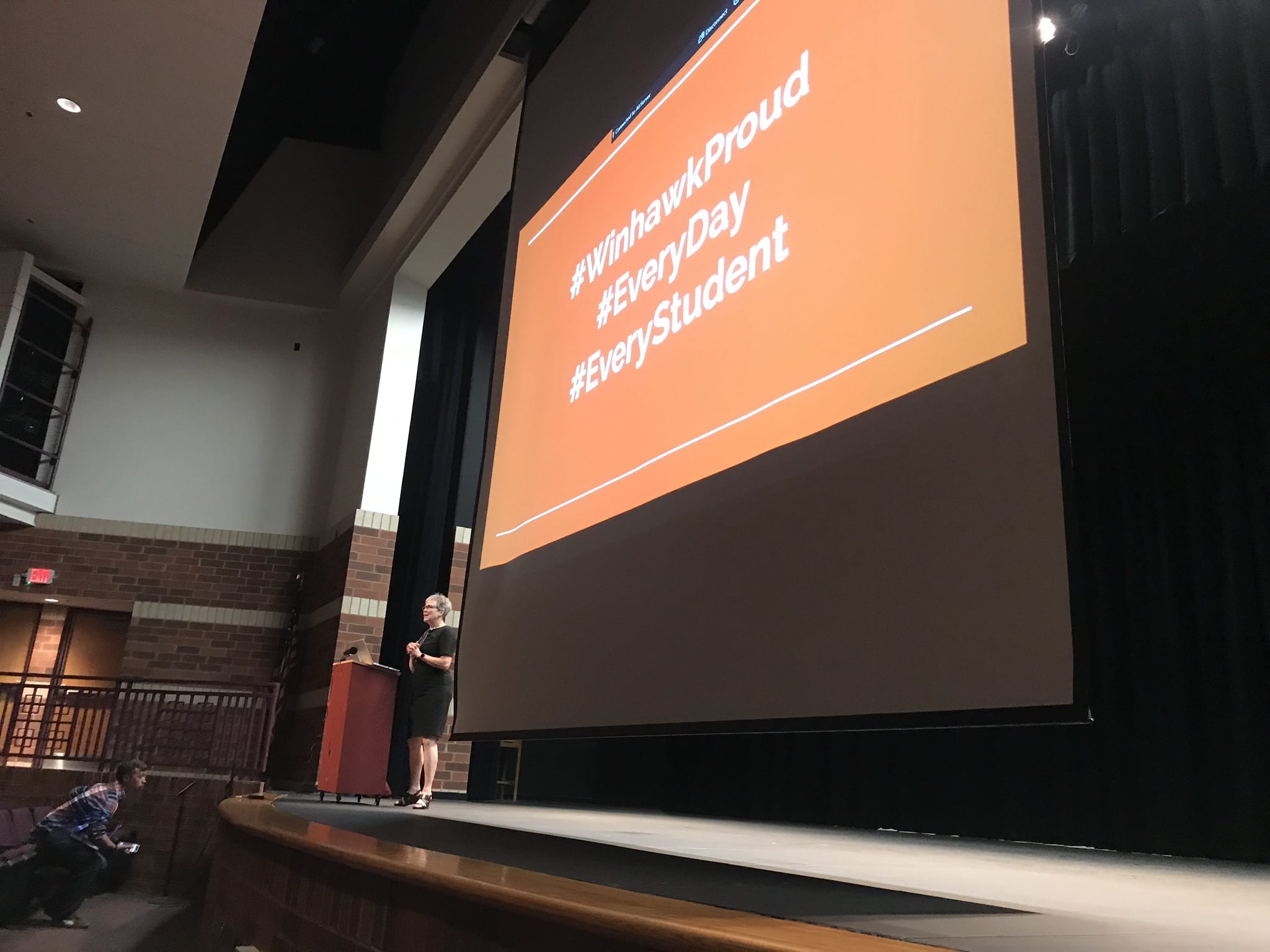 New Superintendent Dr. Annette K. Freiheit kicked off the school year with an all-staff celebration on Tuesday, Aug. 27 at Winona Middle School.
Freiheit, who came to Winona from Pine City Public Schools, continued her tradition of reading a picture book — the selection this time was "Happy Dreamer" by Peter H. Reynolds — to the staff.
"Think about the dreams of our students," Freiheit said in closing. "And how you can help those kids develop those dreams and build those dreams throughout the year."
Freiheit was introduced to the crowd by Winona Area Public Schools Board of Education chair Nancy Denzer.
"From a parent's perspective, you make a difference to someone," said Denzer, who also included a plea for teachers to take care of themselves so they can take care of others. "This is the best profession in the world.
"We're going to have an amazing school year."

The keynote speaker was Bukata Hayes, the executive director of the Greater Mankato Diversity Council, whose presentation was titled "The Power of You in the Equity Conversation."
Hayes explained how our past experiences shape the context in which we see the world and the people living in it in ways we don't even realize.
"Continue to ask questions about why," Hayes said. "Continue to gain perspectives that will help you move forward."
Hayes challenged the WAPS staff to do that internal work with the students and families in their classrooms — work he said is necessary before the district can realize "the collective success that we all work for."
School Board Meeting Update: Sept. 5
State testing data: Superintendent Annette Freiheit shared with the board the recent state testing results. The data shows the district falling behind the state in terms of proficiency levels and declining at a faster rate over the last four years. Freiheit pledged to dig into several areas of instruction, including making sure the curriculum is aligned to the state standards. The district sent out a release last week with Superintendent Freiheit calling the results "not acceptable."

Alternative orchestra options: Superintendent Freiheit said she met with members of the music department about orchestra possibilities in the elementary schools. Nothing was decided, and the group will meet again in late September. Freiheit also said she met with Community Education Director Ann Riebel to look at the possibilities for a comprehensive offering for art, theater, dance and music out of that department. Freiheit said she will come back with some options at the Oct. 3 board meeting.

Overnight field trip: The board unanimously approved a request by the Winona Senior High School band to take its every-other-year trip to Florida. More information on the trip can be found here.

Enrollment: Enrollment numbers as of Aug. 29 were presented to the board, however Superintendent Freiheit warned that these numbers are still preliminary and will drop once the PSEO students are removed from the senior class. The enrollment on Aug. 29 showed 2,717 in the district, including 211 in kindergarten. Freiheit said the numbers she will share at the Sept. 19 board meeting will be a little closer to the actual count.

Solar agreement: Finance Director Kristy Millering gave a presentation on the district's solar subscription with Clearway Energy. No action was taken.

Tax levy: Millering also briefed the board on the tax levy certification process. At this point, levy numbers are not final for school districts. Administration recommends certifying the maximum proposed levy at the Sept. 19 board meeting, a process typically followed by WAPS and other districts around the state. Once the levy is certified, it can be lowered, but it can never be raised. The final amount will be set in December.

Election judges: The board will be voting on appointing a list of election judges. The item will come before the board at the next meeting.

Foster care transportation: The board approved an agreement for transportation of students in foster care placement. The agreement is between the school district and Winona County.

Upcoming events: Superintendent Freiheit also let the board know that Winona Senior High School will serve as host for part of the state Legislature's "mini-session" in Winona from Oct. 2-4. Freiheit said the high school will host a meeting of the K12 and higher ed committees on the morning of Thursday, Oct. 3. More information will come. … Homecoming week is set for Sept. 16-21. More details will come on winonaschools.org. … The next regular school board meeting is set for Thursday, Sept. 19, but the school board will have a goal-setting session on Saturday, Sept. 14 from 9 a.m. to 1 p.m. at the WSHS Learning Commons.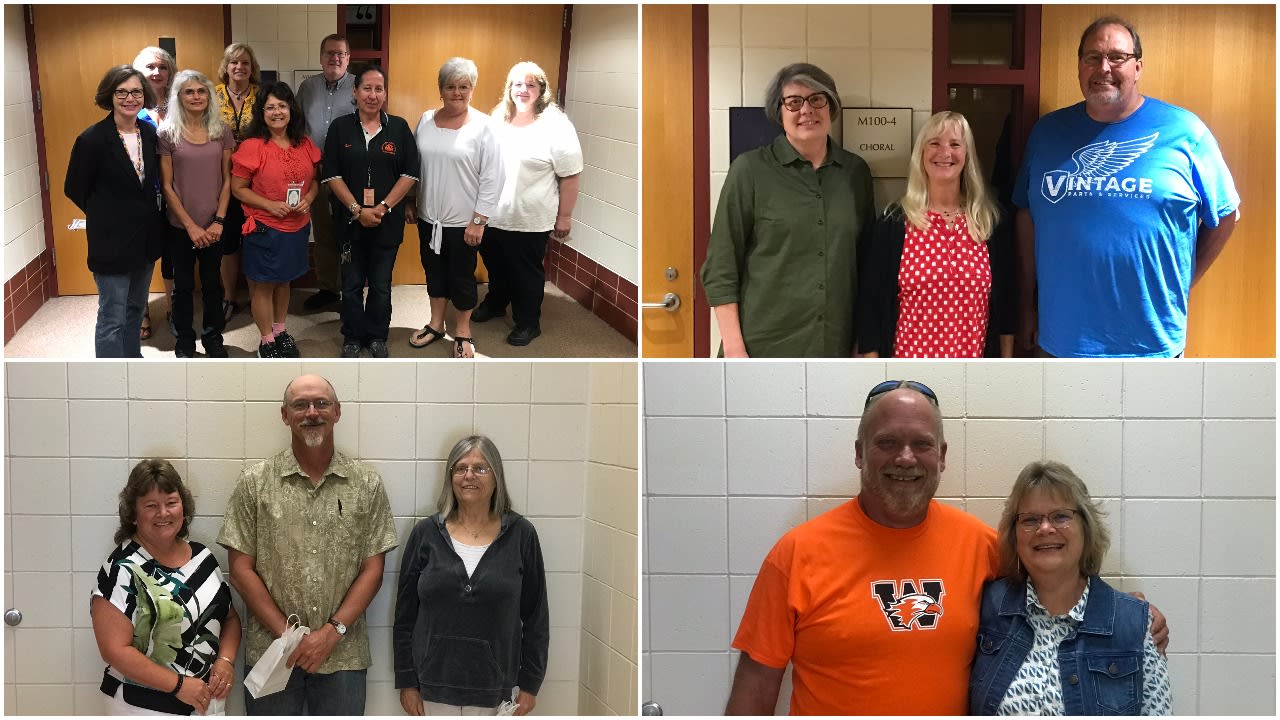 At its welcome back celebration on Tuesday, Aug. 27, Winona Area Public Schools recognized several staff members for reaching years of service milestones. Celebrating 20 years were: Janet Nelson, Kara Welch, Wendy Bublitz, Kimberly Hundt, Susan Dennehy, Bonita Mayer, Kenneth Mann, Lois Dyreson, Kathryn Gamble, Debra Berhow. Celebrating 25 years were: Marie Holmquist, Jill Burt, William Knopp and Peter Weess. Celebrating 30 years were: Sherry Jumbeck, John Weaver, Lisa Palkowski. Celebrating 35 years were: Doug Benter, Elizabeth Wright and Robert Muras.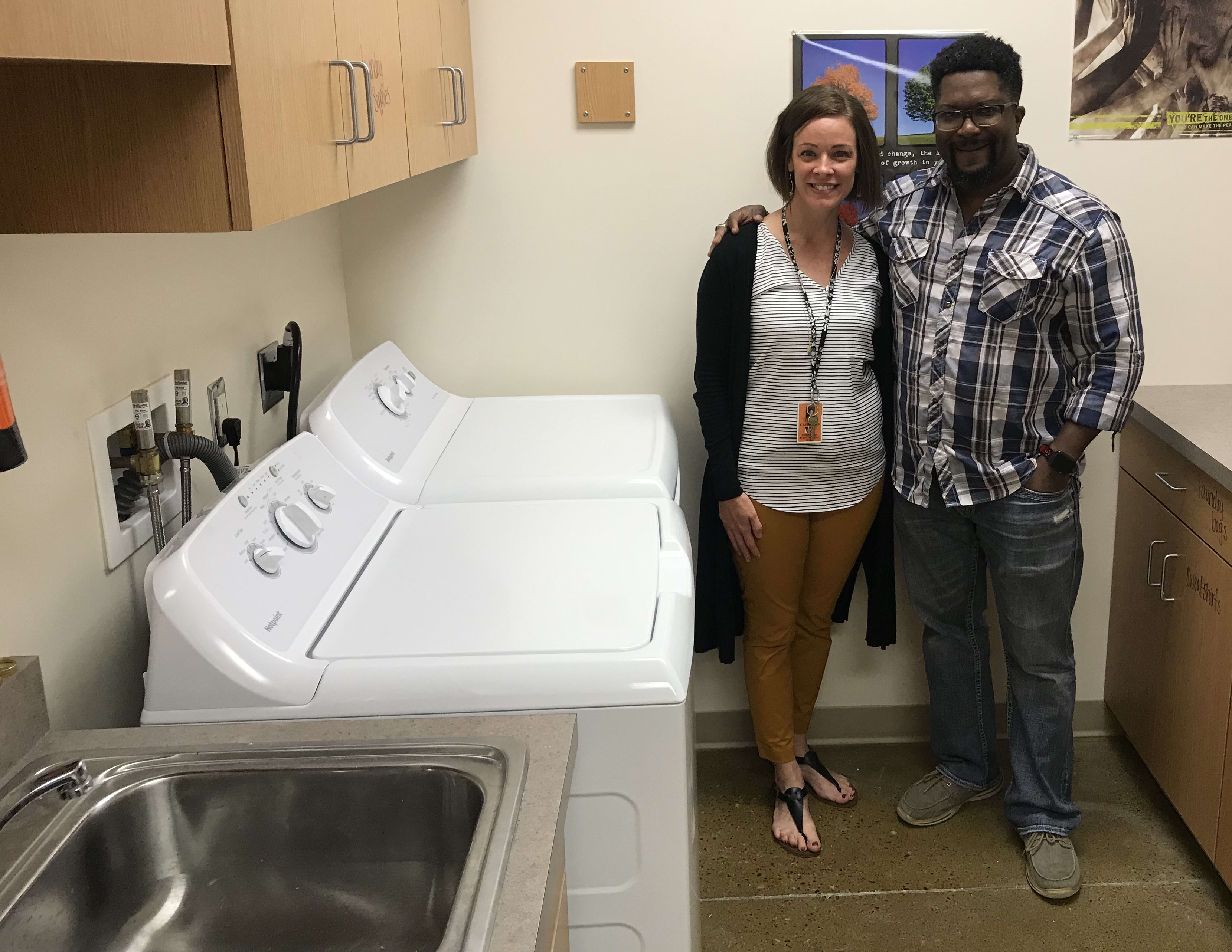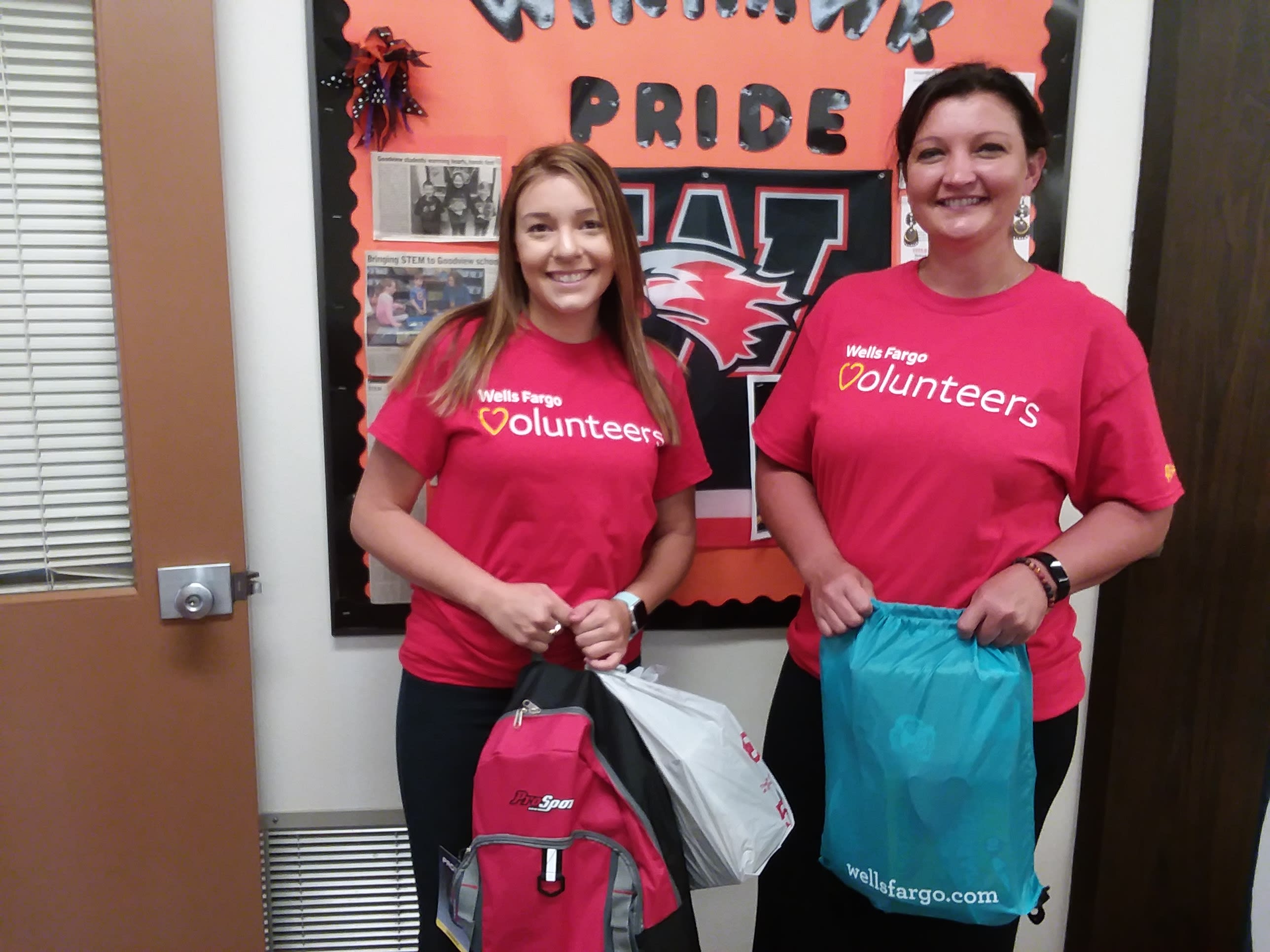 Wells Fargo Bank, which has locations at 125 Main St. and 875 34th Ave. in Winona, organized a backpack drive in early August for local schools. Wells Fargo employees collected seven backpacks full of school supplies for students at Goodview Elementary, Washington-Kosciusko Elementary and the Winona Middle School.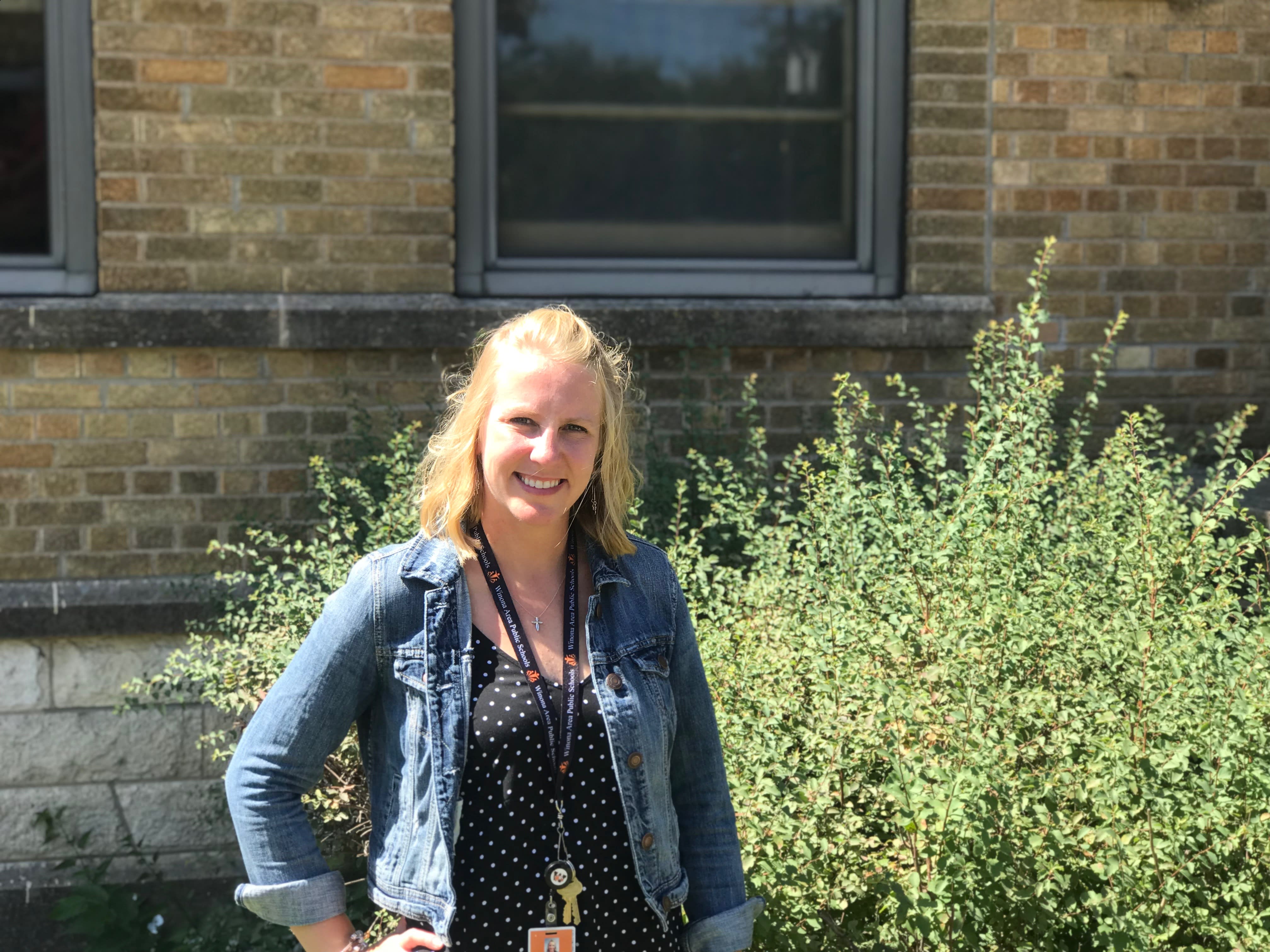 The new Jefferson Principal, Maggie Maine, wants parents to know that her door is always open. "I'm a relationship person," she says. "When you have a relationship with someone, it's easier to have those conversations. Building a relationship with parents and students is really, really important to me."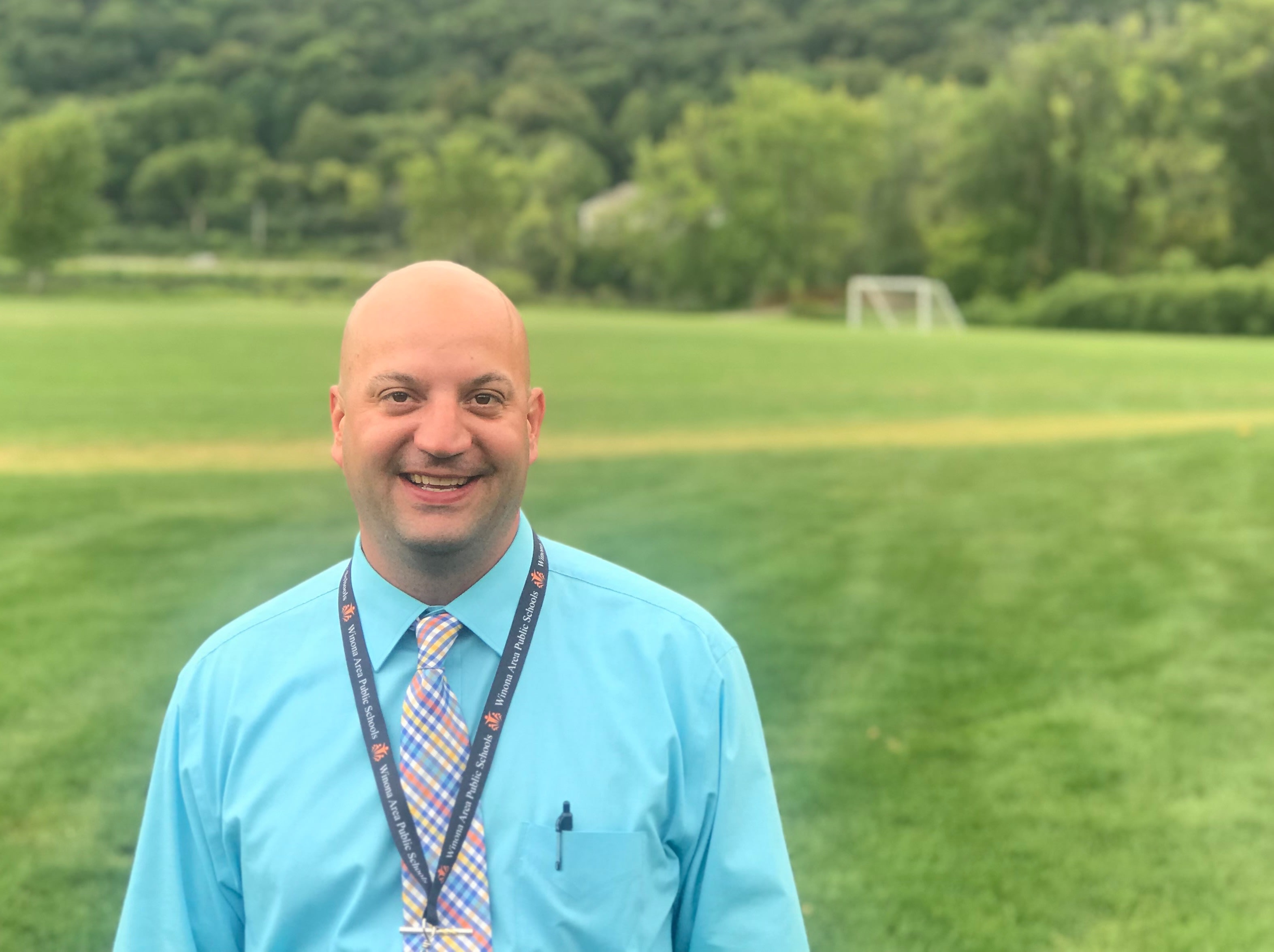 Isaac Matzek, the new Assistant Principal at Winona Senior High School, has a goal of putting students first. "If we continue to put students at the center of our decision making, we will be making good decisions," he says.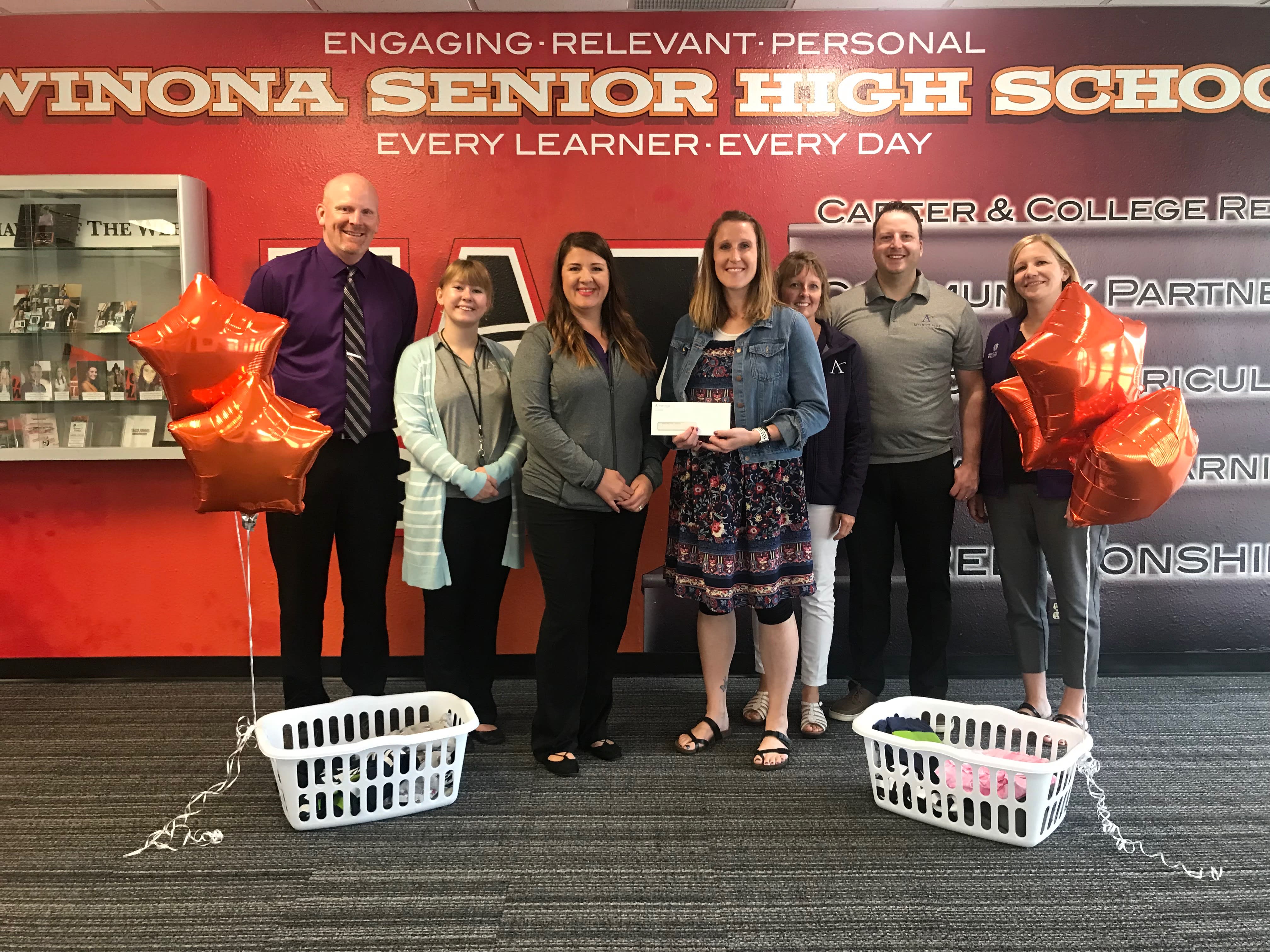 Affinity Plus Federal Credit Union recently made a $4,000 donation to the Winona Area Public Schools Clothing Closet, which provides clothing and other resources free of charge to students in need. An unused room in the high school was converted into a closet to permanently house these resources.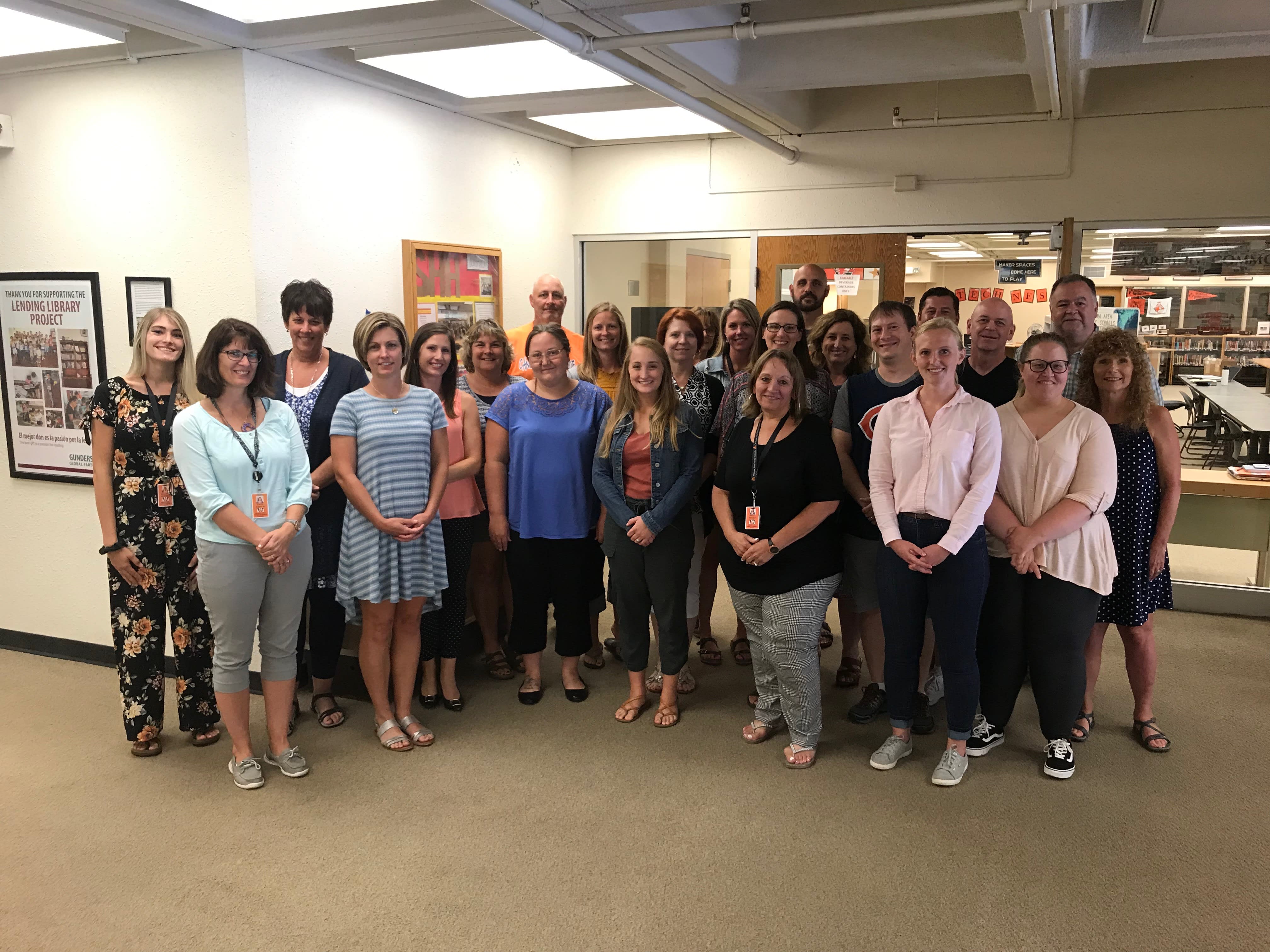 To help incoming teachers feel comfortable in their new environment the Staff Development Committee has a mentorship program that matches established teachers with new hires in the district. That program is now in its fifth year.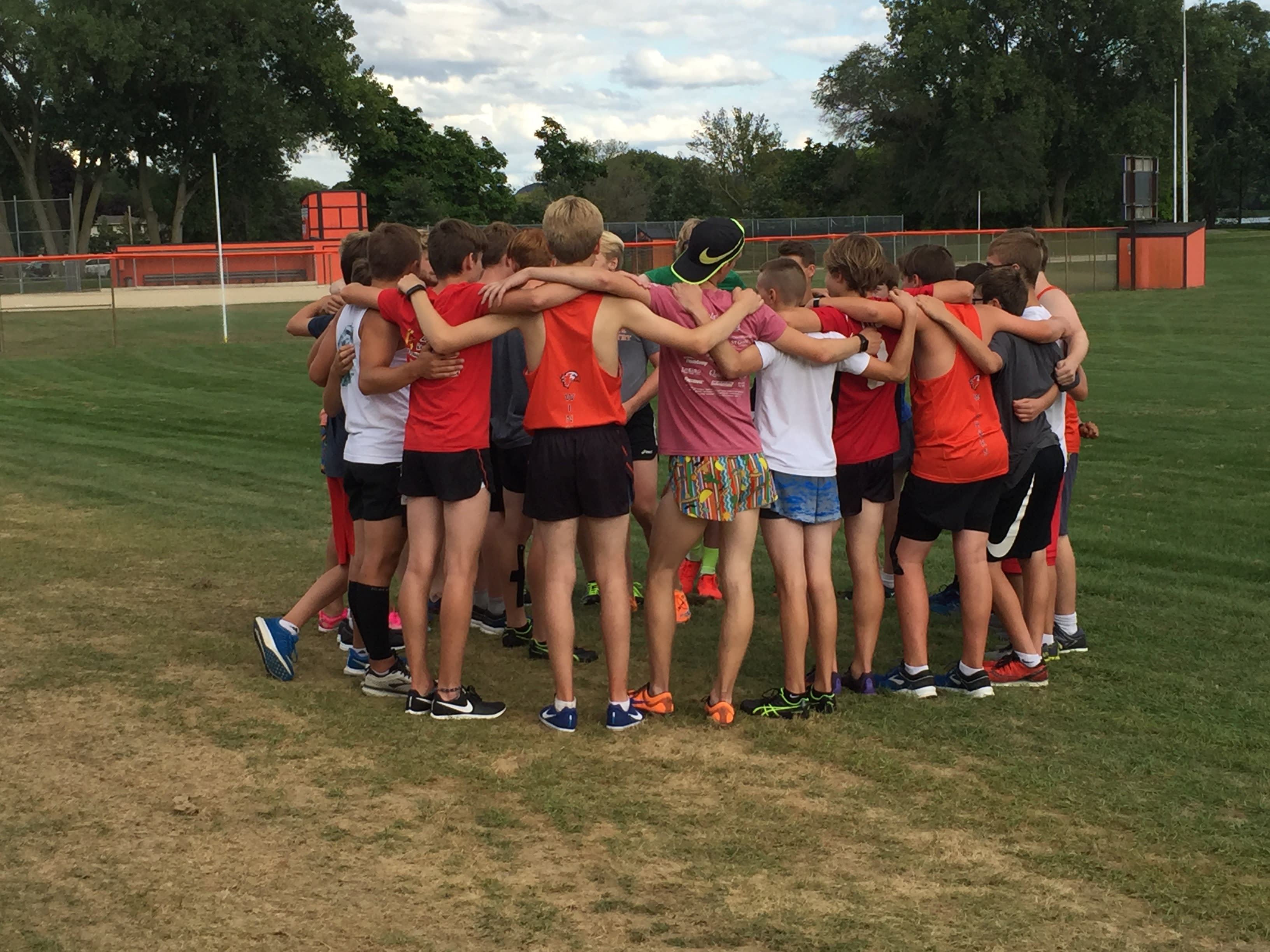 The Winona Senior High School cross country program is getting together to celebrate 53 years of running success in Winona — as well as coach John Ruggeberg's induction into the Minnesota Cross Country Coaches Hall of Fame. Click here to read more about the event and how to buy tickets.
Looking for Winhawk gear? Have no fear
Are you looking for some Winhawk apparel? Then you've come to the right place. An apparel order organized by the Winona Middle School After School Activities Office is now open. Samples are available to try on in the WMS After School Activities Office. Please call 507-494-1060 with any questions. The order is open to students, staff, parents, families, district residents or anyone who looks good in orange and black. The order is open until Sept. 15.The order is open until Sept. 15.