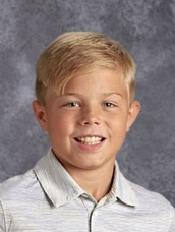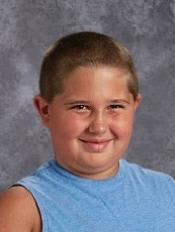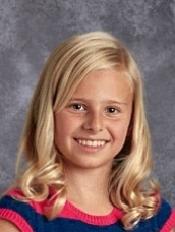 The W-K students of the month are, from left to right, Evan Galewski, Dakotah Brevig and Tessa Baertsch. They are all in the fourth grade.
Evan works extremely hard during in-person learning as well as at-home learning. He completes his tasks in a timely manner and always works to the best of his ability. He is very kind and treats all students and staff with respect and compassion. Evan has a great sense of humor and is a tremendous asset to the fourth-grade team.

Dakotah is a responsible student. He works hard and always puts forth his best effort. Dakotah is kind and friendly to everyone. He is a good listener and is respectful to his classmates, teachers, and staff at school. His positive attitude is uplifting!

Tessa is a delightful student who exhibits many positive qualities. She comes to school eager to learn each day. Tessa completes her assignments neatly and on time. She participates in class discussions and offers well thought out answers. Tessa is a very kind individual who is nice to everyone. Tessa never complains and is always willing to help out if necessary. Tessa is a wonderful student who works hard and is a good friend!
Way to go Evan, Dakotah and Tessa. We are so #WinhawkProud of you!
A message from the principal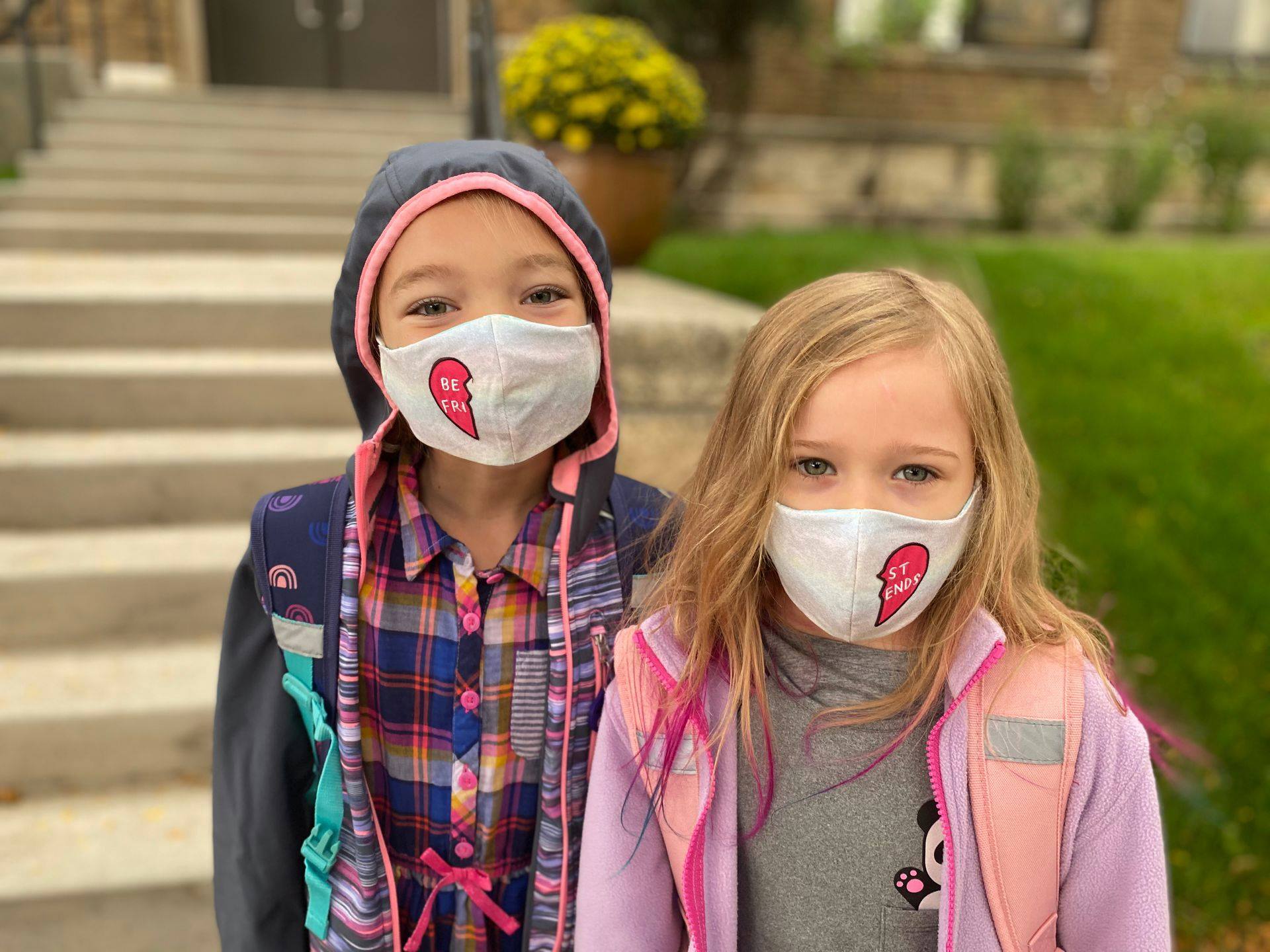 Dear Families,
We are off to a wonderful start to the school year! It is so nice to see students in our building. We are having a Greatest Showman theme this year with both staff and students, so we kicked that off in our opening assembly.
Our theme for September was "We are Safe." We discussed wearing masks properly, staying six feet apart, and washing our hands frequently. I am so impressed with how well the students are doing with the new routines and safety precautions. Thank you so much for all your help in this matter. Our October theme is "We are Brave."
We are enjoying our new procedures for drop off and pick up. We think it is more efficient, and most importantly, safer. We appreciate your cooperation in this new change. We made some slight tweaks to our system from last year, and each grade has an assigned door to help us with improved contact tracing. Thank you so much for your cooperation.

Our playground is beautiful, and the students are enjoying using it for phy ed or recess. It was part of the remodel work that was done this summer. We also have our new handicapped accessible ramp and a new indoor bathroom that both look great.

Please remember to keep your students home if they are not feeling well. Many of the symptoms of allergies, flu, cold, and other illness mirror COVID-19. If students have these symptoms during school, we assess and then call parents to pick up not only the child with symptoms, but all other siblings as well. They have to stay out until tested or an alternative diagnosis is given. This is all part of the CDC and Minnesota Department of Health guidelines. I know it is extremely difficult, but we have to follow the proper protocols put into place.

Also, please send your child with all the appropriate clothing necessary for the conditions. Our outside time is crucial now, and we are going out in all kinds of weather, except for heavy rain or storms. Please remember to send an extra set of clothing as well.

I want to give a huge shout out to all our staff who are working so hard to make school as normal and safe for our students as possible. This includes teachers, educational assistants, maintenance, secretaries, cooks, bus drivers, and Key Kids staff. We know this is a difficult time for all, but I am constantly impressed with our W-K community. Thank you to all our parents as well for your continued support. We are #WinhawkProud.

Ms. Dawn Waller Lueck
Photo cutline: Zoe and Carmen are best friends ... and they have the masks to prove it! These two super second-graders are excited to learn together in Miss Clinkscales' class along with all of their other friends at W-K.

Positive Behavior Interventions and Supports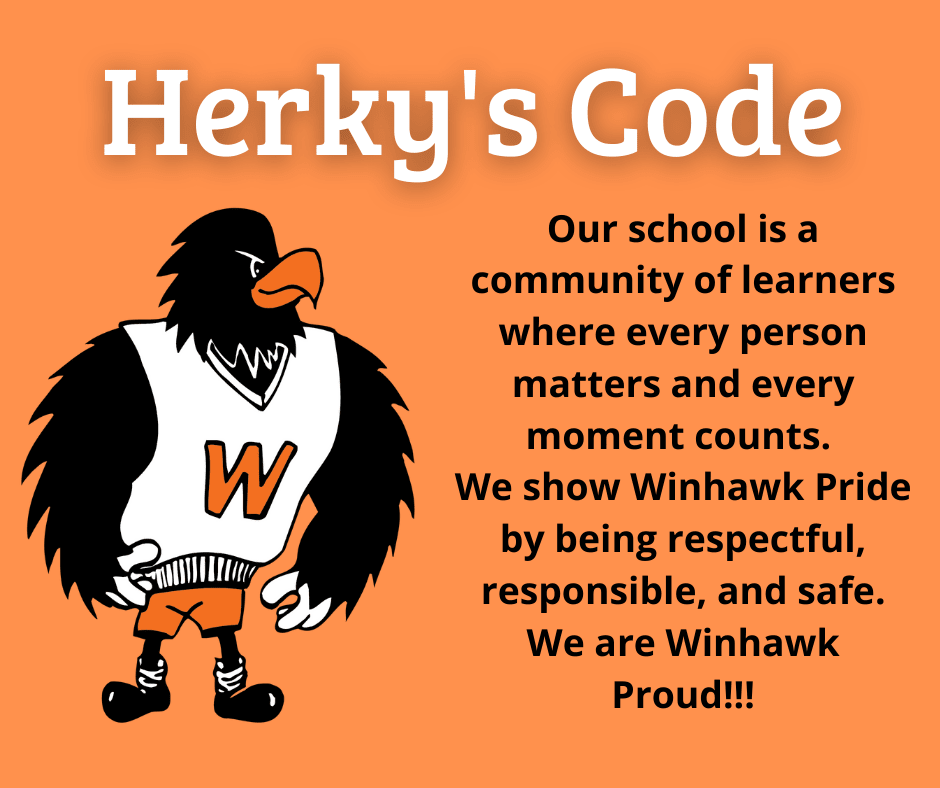 At WAPS elementary schools, we are on Year 2 of implementing PBIS strategies. If you have heard your student talk about Herky's Code, Way to Go tickets, or even the words: respectful, responsible, and safe, you have experienced the effects of PBIS in our school. PBIS encourages the development of positive teacher-student relationships. In addition, it is an organized, data-driven system of interventions, strategies, and supports that positively impact school-wide and individualized behavior planning. PBIS is a framework that seeks to set up clear, consistent expectations so that each student knows exactly what is expected of them in every situation in school.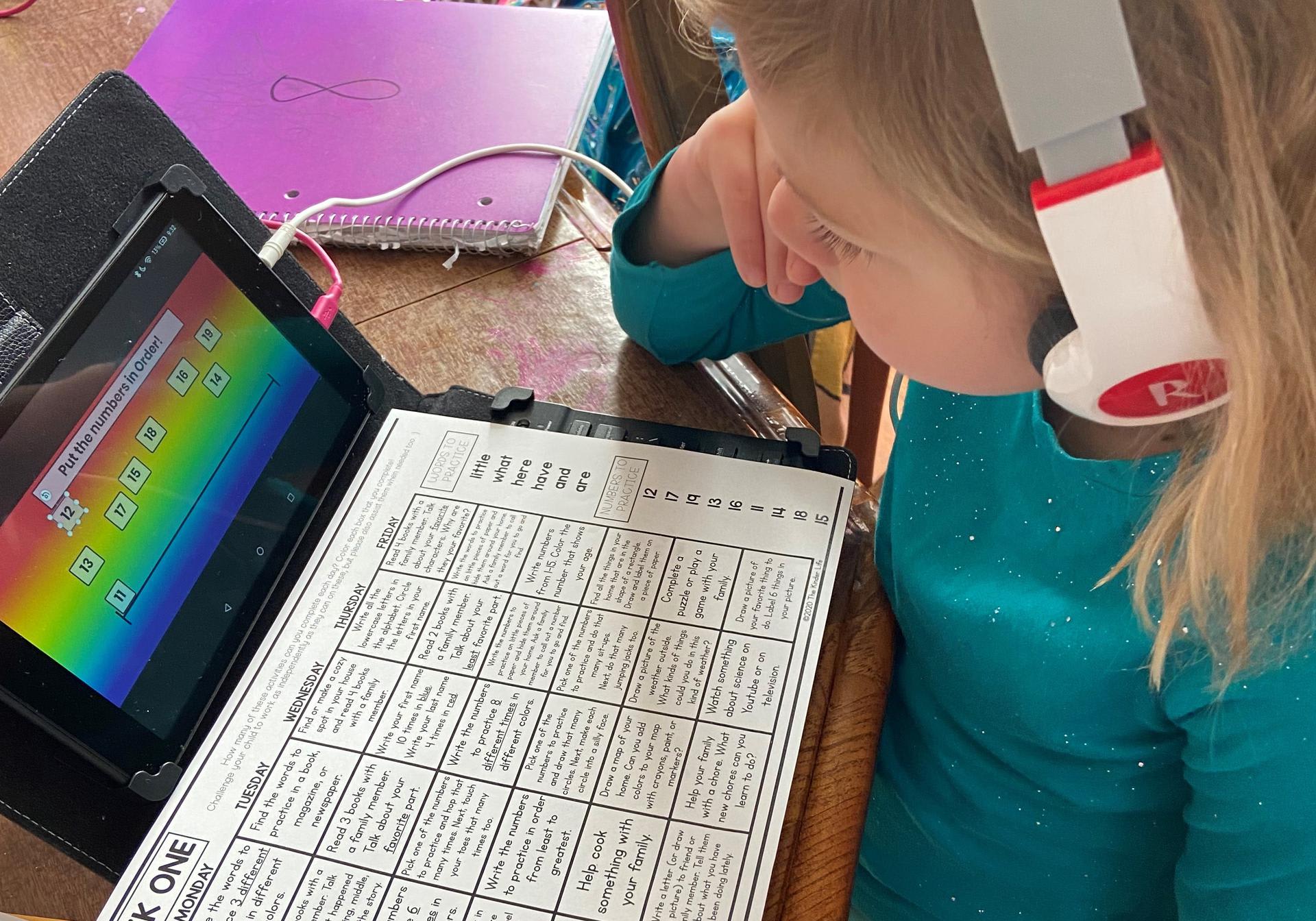 We have entered a school year where our student's online presence is higher than ever. It is very important that we treat our online classroom, just as we would our in-person classroom. This refers to our students, but also other family members who are at home during learning hours. We highly suggest having a specific location for your student to complete work where they will not be bothered by distractions or non-school related activities. Please also consider setting a routine for students on at-home learning days. Encourage your student to get dressed and ready, just as if they were coming to school. It is an expectation that students are wearing appropriate clothing during live learning meetings. For more Digital Etiquette expectations, please refer to Herky's Distance Learning Matrix.
Technology Questions/Repairs
Please complete the Student Technical Support Request Form, which can be found on the WAPS district website under the WAPS Safe Learning Plan and the Parents & Students link. From there, Information Systems staff will contact you that day to help solve your technical problem.
In order to properly communicate with classroom teachers, we are requesting that all end of the day changes reach our office by 1:30 p.m. Messages after this time are not guaranteed to reach the intended student/teacher.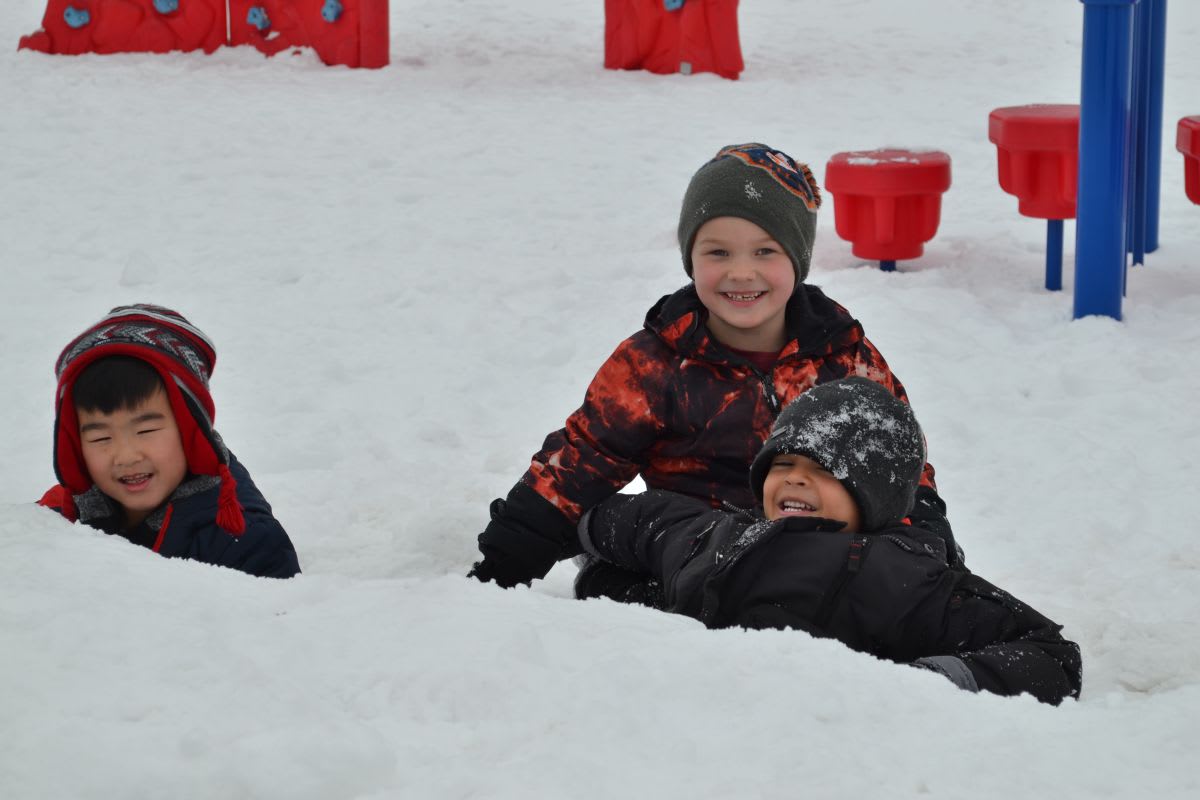 With meals in the classroom and physical education class outside, spills and accidents are more prone to happen. Please prepare a Ziploc bag with an extra shirt, pants, socks, and underwear. These items can be left in your student's locker or cubby. It is also very important that your student dresses appropriately for the weather, as phy ed class will always be outside unless it is raining or a below zero wind chill.
Picture retake day has been rescheduled for Tuesday, Oct. 20, from 8 a.m. to 1 p.m. at the school. When more information is available, we will pass it along to you.
The Minnesota Department of Health (MDH) has outlined our COVID response for people in schools, youth, and child care programs. It is important that you understand the information and protocols provided by our district and MDH. Please visit our district website for specific Health and Safety Protocols and/or the Minnesota Department of Health Resource Page.
Some key resources include: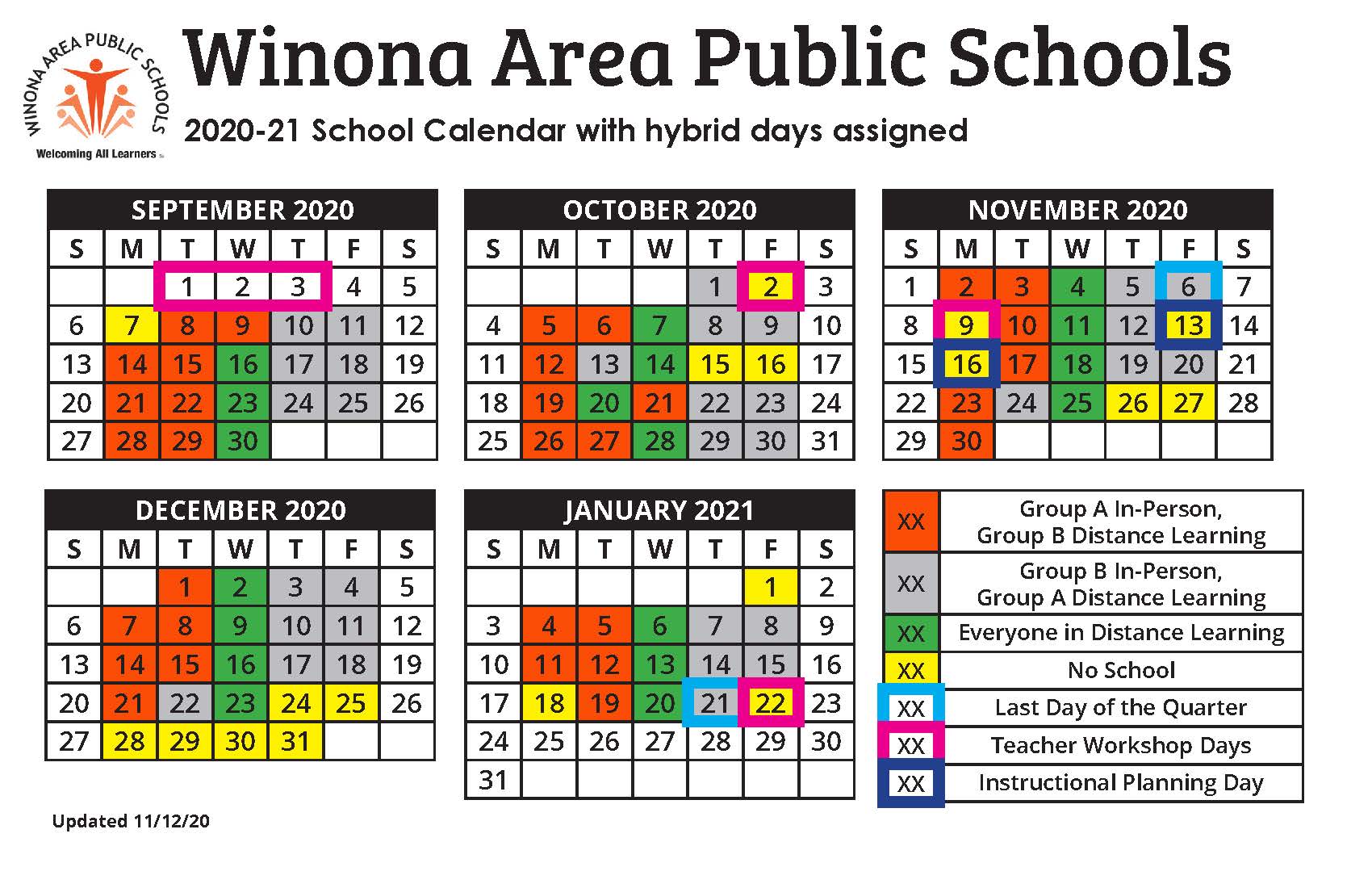 Just a reminder, we needed to make a few changes to the hybrid calendar for the first semester to balance the in-person days for each hybrid group and to accommodate the new ACT testing date.

Here are the changes that were made:
Tuesday, Oct. 20 is now a distance learning day to accommodate ACT testing for seniors at the high school

Wednesday, Oct. 21 is now an A day

Wednesday, Nov. 11 is now a distance learning day for all
A new hybrid calendar is available at this link.
Also, please keep in mind that Tuesday, Oct. 13 is a "B" day because of the short week for the MEA Conference.

We don't anticipate having to make any changes to the calendar for the rest of the semester, but if we do, we will be sure to communicate those changes to you with as much advance notice as possible. We realize that work schedules and childcare schedules need to be set ahead of time, and we thank you for your flexibility and your understanding.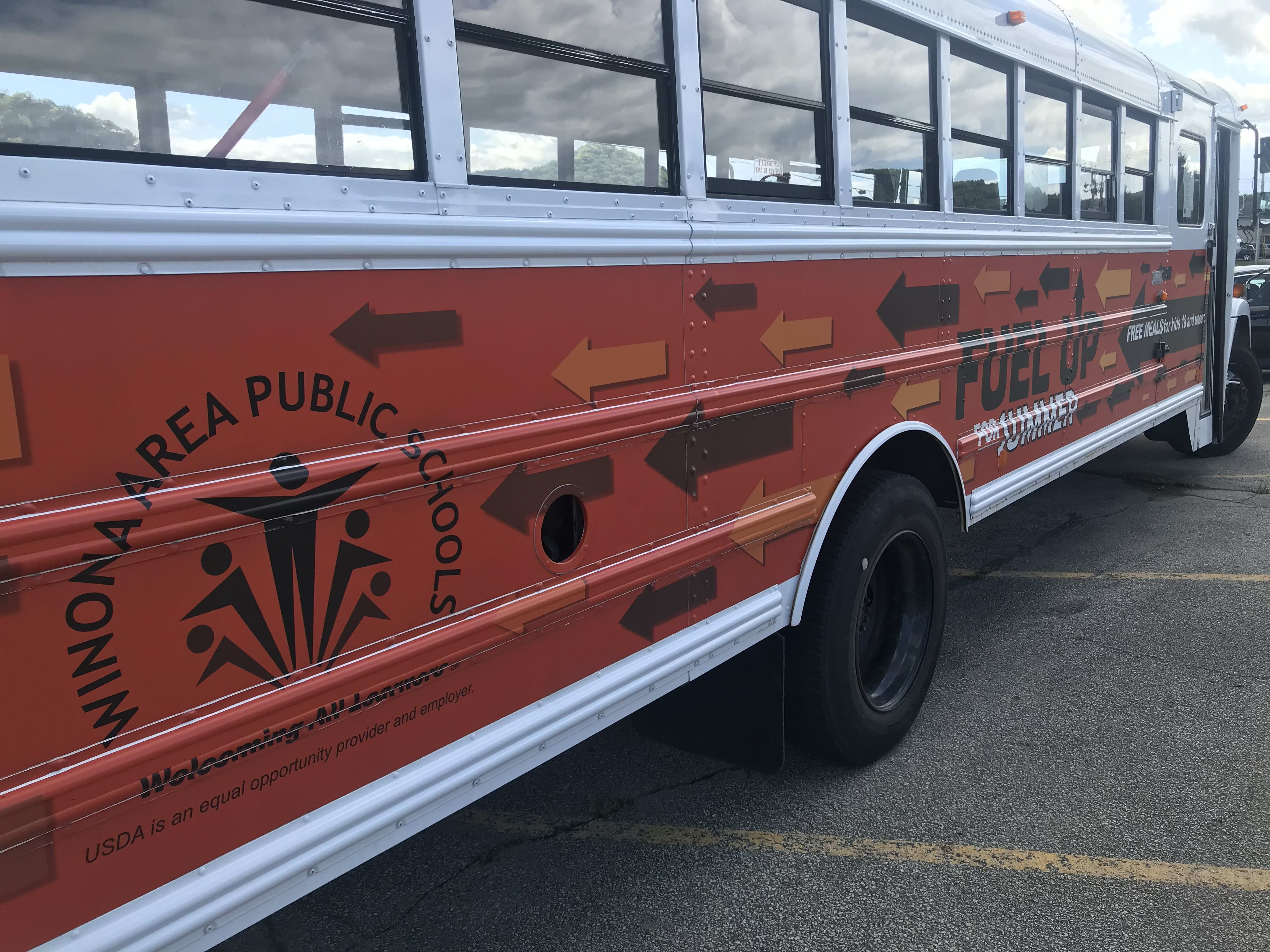 The federal program that allows Winona Area Public Schools to provide free meals for all students in the community has received additional funding. All students in Winona — not just those who attend a WAPS school — will have access to free meals for the remainder of the school year and next summer.
To start the 2020-21 school year, WAPS is handing out free meals once a week at four locations in Winona. The meals, which include breakfast and lunch, need to be ordered through an online form. Families can pick up meals for one, three or five days.

This program also covers all meals — breakfast and lunch — served to students in school or enrolled in Key Kids child care. If you would like your student to receive the free meals, please make sure they contact their classroom teacher to order breakfast and/or lunch.

For more information, please see the School Nutrition link in the WAPS Safe Learning Plan.
Click here for the WAPS School Nutrition October Newsletter!

Winona Goodfellows is an organization that helps families with winter clothing and footwear. It is for preschool through sixth grade. Applications will be handed out to all students who are attending school in person. If you are a distance learning student, please stop by the office to pick up an application, or apply online here. Applications are due by Nov. 6.
Tuesday October 20
8:00 AM - 1:00 PM
Thursday October 22
2:30 PM - 7:00 PM
Elementary Schools
Monday October 26
2:30 PM - 7:00 PM
Elementary Schools
Washington-Kosciusko Elementary | 365 Mankato Avenue | Winona, MN 55987